Every Thursday, right on time for your coffee break, we will give you a quick dose of "marketing caffeine" to uplevel your marketing and in turn uplevel the results you are seeing at your business.
At No Joke Marketing we believe in serious marketing and serious results.
At the end of the day, the only thing we will be counting up are the results driven from the actions taken. Not everything in every issue will apply to you, but my hope and intention is you grab the nuggets here and there. Apply them and share your results. If you don't know a ton about me personally, please feel free to head over to 
michaeltasner.com/about
. This gives a quick overview of my career and personal life to date. I don't share this to boast but rather to let you know you are learning from someone who has been in the trenches and will speak from experience versus textbooks. Everyone and their cousin claims to be an internet marketer these days, thankfully, I am the real deal and I look forward to mentoring you and making an impact on your business.

So what does the road ahead look like? Each week (and more frequently if requested), you will get a structured issue filled with the following:
Your Cup of This Week's Strongest Marketing Tip
What Should be On Your Reading Menu Over the Weekend
Short Read You Can Finish as Fast as Your Espresso Cup
Powerful Tool to Make Your Marketing a Piece of Cake
Quote of the Week to Keep You Inspired
Fun Fact about Me, or the Company, or the Team
So without further ado, welcome to issue number #001.
YOUR CUP OF THIS WEEK'S STRONGEST MARKETING TIP

Tracking
There are so many different marketing tactics, tools and methods you can test. But there is no point in implementing anything new without setting up the proper tracking.
One of the No Joke Marketing's favorite ways to track is by setting up various phone numbers for each of your different lead sources. We use both CallRail.com and CallTrackingMetrics.com.
If you are driving visitors to a website, use different landing pages and tools such as LeadPages or ClickFunnels.com. The key is that every lead source needs a unique number or landing page otherwise you are still guessing as to which worked better.
Guessing is not in our vocabulary.
WHAT SHOULD BE ON YOUR READING MENU OVER THE WEEKEND
Scaling Up
I love reading. On the left is a picture of part of my bookshelf.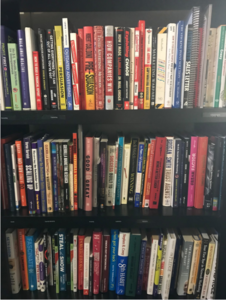 I'm actually not the most organized person, but I was like a kid in a candy store when I finished organizing my books by category.
I have collected and curated some really interesting books on every topic from copywriting and ad buying to growth and leadership (and everywhere in between).
One book that I have read several times and am currently re-reading for the 4th time is titled "Scaling Up."
While the book is a bit technical, it is one of, if not the best, guide I have ever read about how to grow a company.
It focuses on all the core elements to growing a successful company without going insane.
Among my biggest takeaways from the book was the section on managing cash and how to make sure you never run out (somewhat of an important thing in business).
If you are looking to grow, I highly suggest you check out the book.
SHORT READ, JUST LIKE YOUR ESPRESSO CUP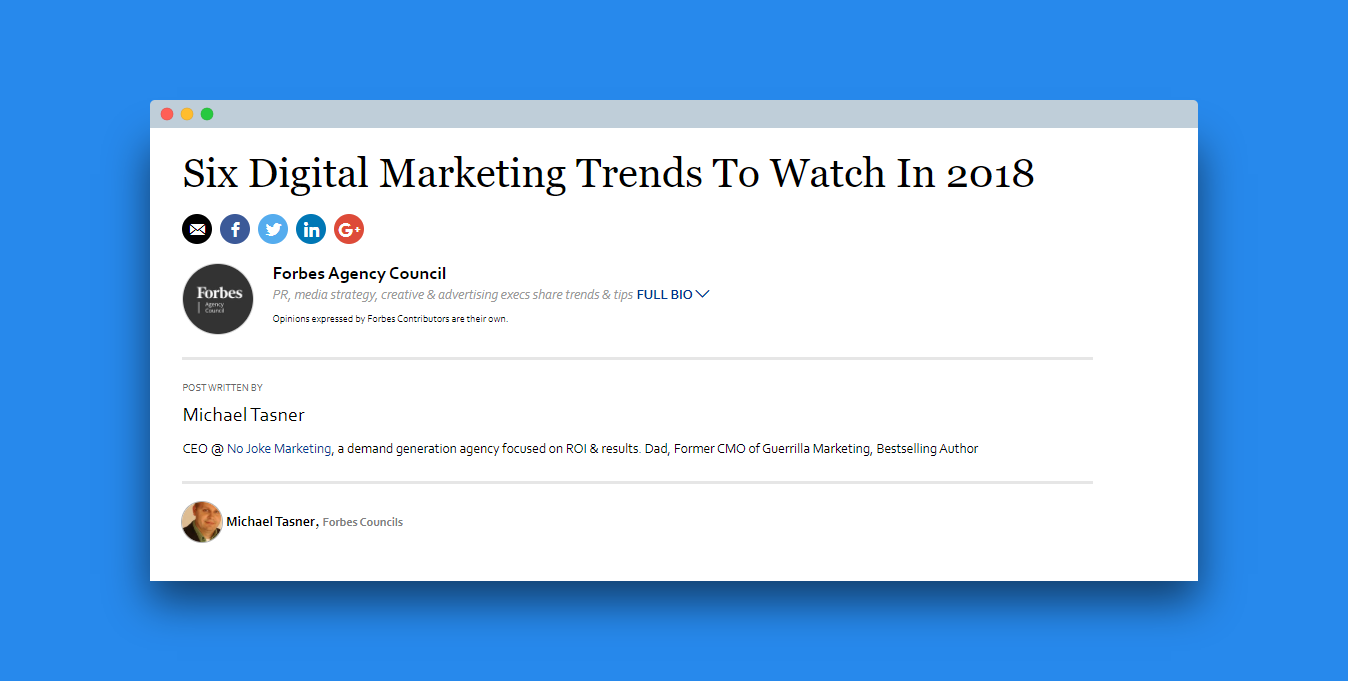 Top Trends of 2018
While I know it's May already, I wrote a great article for Forbes titled Six Digital Marketing Trends to Watch in 2018. It has racked up over 70,000 views and has some great actionable content for you.
This is a tad self serving, but hey it's issue number one :)
Read the article by following this link.
POWERFUL TOOL TO MAKE YOUR MARKETING A PIECE OF CAKE

Pipedrive.com
I am a visual person when it comes to sales funnels and pipelines. While we are huge fans of using Infusionsoft, so much so that we are certified Infusionsoft consultants, I was having a hard time visualizing where our prospects were in the process. I started using Pipedrive and within a week had everything visually organized. I could see where to spend my calling and follow up efforts while making sure I had next actions for everyone. A solid and very inexpensive tool to help you close more business.
QUOTE OF THE WEEK

The more that you read, the more things you will know. The more that you learn, the more places you'll go.

-Dr. Seus
NO JOKE FUN FACT
We are 100% remote with no physical office. While Michael's previous agency had a physical office he found that we could recruit better talent by making the entire world our talent pool.
Our team is scattered across several time zones and countries to ensure the best talent and results.
READ THIS BLOG POST AS AN INFOGRAPHIC